A full clinic in Patras (Gym Panagias Alexiotisas)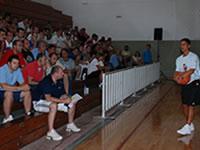 The upcoming International Clinic for Young Players that will be held by the GBCA in Patras has created great interest and mobility in every basketball pitch in South Greece. The presence of Kostas Petropoulos and Giannis Christopoulos in their hometown is considered a centre of attraction. Also with his lecture in Veroia as a beacon Steve Spencer is ready for an equally interesting speech. The panel is completed by the Italian assistant coach of Siean, Luca Banchi.
The clinic will start with a lecture from the American coach Steve Spencer, who will talk about ballhandling skills, a part that has to do with the fundamental improvement. Kostas Petropoulos will talk about a topic that he was known as a player, the jump shoot, the mechanics of the shot execution and everything that refers to the subject. The first day will end with Luca Banchi and his lecture about the way a player has to play 1vs1 defense.

He will be the first coach to start the lectures over the clinic's second day. The Italian coach will talk about passing technique. After that the other coach from Patras, Giannis Christopoulos, will analyze the teaching methodology of the individual defense. The clinic will be concluded with the lecture of Steve Spencer about 1vs1 offense.
Basketball Coach Ενότητες Άρθρων