Karl: "I love point-guards"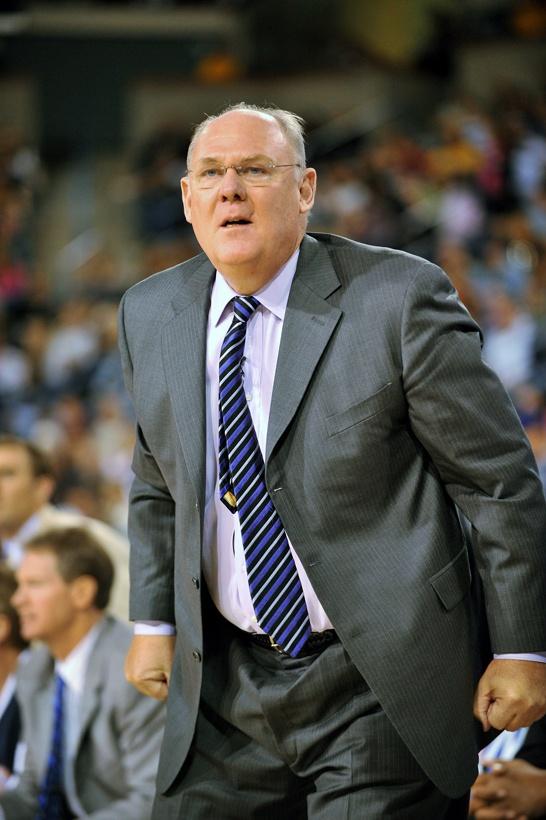 The coach of the Denver Nuggets, George Karl, extended his contract with the club, for one more year for 4.5 million dollars. In the NBA world this kind of extension our unfamiliar, as most of the coach renew their contracts for 3 or 5 years. He talked to the official site of the league and informed why he agreed to such a short extension.
Q: Why just one year? Traditionally, coaches want as far a horizon as possible, figuring that brings both job security and clout with the players.
George Karl: I just think it's the circumstance of where the league is. I don't think there's going to be many coaches sign a contract that is going to pay them in the lockout year. So for me, why not be free? Why not be free? Being on the last year, I've done it before. I did it this year. Other than you guys driving me crazy, I don't think it's been any influence upon how the team has performed.
Q: How does it feel to have it done?
GK: Tremendous. [Denver owner] Stan [Kroenke] and I talked the last couple days. I think it's basically Stan and I kind of got together and had some words, had some meetings. I think we both respect one another and that's why it got done.
Q: You're moving up the coaching victories list but you're chasing some moving targets. Don Nelson, a mentor of yours, is 10 shy of becoming the NBA's all-time leader among coaches. What are your thoughts on Nellie as he approaches this milestone?
GK: For me, he's a guy who influenced my coaching. Has been a friend who, when I've been down, he's been one of the guys who picked me up and helped me out. I think he's been loyal to the coaching profession. I still enjoy talking with him about the game of basketball. If I have a headache about what's going wrong with my team, Nellie is on the short list of guys I'll call to ask, 'Hey, what's going on?'
And he gave my son [Coby] the opportunity to play on an NBA court. Even though it was only on a 10-day contract [signed with Golden State Jan. 27], those three or four games were an incredible gift, to watch my son in a couple of those games play real good basketball. Nellie gave him that shot. I'm hoping he'll get another shot. So there's a kind of loyalty there and friendship that's gone along. We've been together for a long time.
Q: You went from 42-40 to 16-48 in your (not quite) two seasons with the Warriors. What do you make of that franchise's ups and mostly downs?
GK: I actually have pain for teams in this league that I think are pretty well coached and they keep losing. That's a miserable place to be, because no one thinks you're a good coach when you lose. Not in the NBA. Someone might think you're a good coach at Bowling Green if you [only win a few] games, but ... I don't think there's bad coaching in the NBA. There are just teams that lose in the NBA.
There's too many good coaches sitting on those other [benches]. Those guys know the game, they know what's going on. They might not have the answer for their team at that moment when they're losing, but they're pulling their hair out trying to find an answer.
Q: The West has four terrific point guards -- Steve Nash, Jason Kidd, Chauncey Billups and Deron Williams. But four point guards on one team?
GK: I love point guards. I think the more passing you have on the basketball court ... right? The more guys who can make plays, the better you usually play. Unfortunately, we play all East Coast teams [after returning from the break against the Lakers Tuesday]. I'd only be playing guys 50 minutes if we played them, to try to tire them out, but we go East -- we've got Cleveland, Washington and Boston before we [play another West team].
Q: How have Nash, Kidd and Billups managed to stay so effective playing into their 30's?
GK: Probably because they know how to win. All of 'em, mostly throughout their careers, have not been about statistics or skills. It's about their teams winning. All of 'em struggled early in their careers trying to find their identity. But once they found their identity, they've been tremendous. Chauncey, what, going to seven conference finals? That's a list of three or four guys [who have done that]. And most of 'em have been on the Celtics or the Lakers, and that's it.
Steve Nash, I joke all the time that Steve should send some money back to the league for taking the hands off [by changing defensive rules], so we couldn't be wrestling with him anymore. But since he's had that freedom ... When you watch Nash on film, when you're preparing, he always makes a play that you run back and you go, 'Do you believe that?' The only other two guys I ever did that with were Magic and Stockton. 'How did he see that? How did he feel that?' That's how those guys played.
Jason, I think the reason we won a gold medal in the Olympics is that Jason Kidd came back to the Olympic team. Statistically he didn't have anything to do with it. But it was just his winningness. He knew what he had to do. Sometimes he didn't even have to play. But when he had to play, he knew what he had to do to lead his team and direct his team to the right place at the right time.
Basketball Coach Ενότητες Άρθρων