S. Pianigianni: "We start with the NBAers"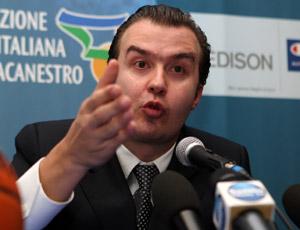 Simone Pianigianni is the new head coach of the Italian National Team, as he was presented by the Federation and Dino Meneghin himself. The coach of Siena talked to "La Stampa" newspaper about the difficult task he is facing and his plan to bring Italian basketball back to its tracks.
""We have to start from the three NBAers of the tam. They have to play for their national team and I think that they will do so. I will travel in the States during January to meet with Galinari, Bellineli and Bargnani. I will show them the plan and the certain things I want them to do to be ready for the National Team.
I coach players of several ages for many years. I know and I can recall that there is a lot of talent and potentials. The players who have already become professionals have to stick to the team, starting from the three NBAers".
Dino Menghin from his point of view said that "Simone is a coach who knows how to manage his players. He has proved that for years in Siena. His team is the champion all these years in the Lega, but also plays in the top level in Europe. He is a great coach. He has all the qualification to help the Italian National Team reach the surface again".
Basketball Coach Ενότητες Άρθρων