Final countdown for the International Clinic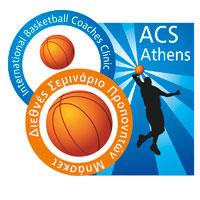 Everything is set for the first clinic of the season. The 1st International Clinic will be held, by the American School ACS and under the aegis of the Greek Basketball Coaches Association, on the 2nd and 3rd of October.
Three well-known coaches of college basketball in the States (NCAA), John Margaritis (University of California, Riverside), Mike Andras (Nothern Arizona University) and Cheryl Burnett (former coach of Southwest Missouri State and Michigan) will be the international lecturers, who will share their knowledge and experience.
From Greece the lecturer will be the national team coach Kostas Missas and Dr. Anastasios Kabourakis who will talk about academic and sport issues that are revolved to the participation of students in the USA Universities.
The clinic will be held in the ACS facilities (Agias Paraskevis 129 & Kazantzaki) in Chalandri.
Click here to view the schedule. Click here to view the information of the Clinic. Click here for the bios of the lecturers.
Basketball Coach Ενότητες Άρθρων