Messina and the Champions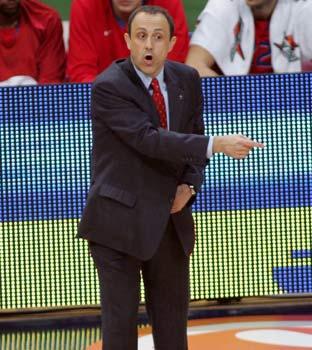 The coach of Real Madrir, Ettore Mesina, welcomed in his team the three European Champions, Felipe Reyes, Jorje Garboahosa and Sergio Llull, while we talked about Novica Veljskovic. The Italian coach in an interview in a Spanish newspaper he explained the reasons Spain won the gold and why Serbia reached the final.
"When all the teams needed to play fast, the Spaniards ran like it was their first game in the competition. The way they played in the second half of the tournament was exceptional. They played fast, but organized, without turnovers. They played with a plan and with a lot or energy. The most important part was their defense. They got their energy at the defensive end and then they used their offensive virtues.
I think that there was no team that could stand up to them while they were playing in their own tempo. Serbia reached the final because despite the fact they didn't have a star players, they were solid team with the proper tactics.
I hope that the players who took part in the competition will play in the same level during the season. I hope they will as energetic in defense and clear-minded in offense as they were in Poland. I am proud for the players of my team and I am sure that we will have a very good season.
"Hector" also talked about the newcomer Rimantas Kaukenas. "His team didn't do so well in the competition, but he is one of the best European point-guards. I think that Real Madrid made a great choice with signing him".
Basketball Coach Ενότητες Άρθρων