Scariolo the new coach of Khimki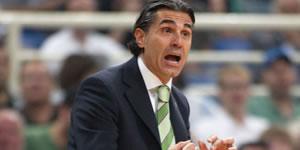 Sergio Scariolo is the new head coach of Khimki, until the end of the season, as the Russian club announced.
The Italian coach who has showcased a glorious career in Italy (Scavolini) and Spain (Real, Unicaja) has the option for two more years. Scariolo replaced Kestutis Kezmura, the ex assistant coach of David Blatt in Benetton.
"He has coached in the strongest leagues in Europe, the Spanish and the Italian, where he achieved many titles. Scariolo is a great coach. We hope that he will adapt quickly to the players and achieve success" said the general director of Khimki, Victor Bychokov.
Meanwhile Lietuvos Ritas parted ways with the national team coach Antanas Sireika.
Lastly Union Olimpija is looking for a new coach in the place of Aleksandar Dzikic who resigned. Among the leading candidates is Jurij Zdovc, the man who was only just appointed coach of Slovenia's national team.
Basketball Coach Ενότητες Άρθρων