Montly meeting in Salonica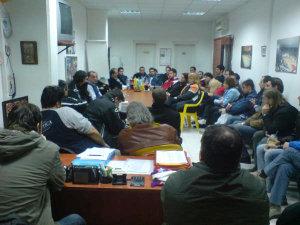 In the monthly meeting of the GBCA, which was held on the 13th of April in the offices in Mikra, the lecturer was Dimitris Galanis.
The meeting began with coach Mouratidis informing the coaches for the next clinics of the Association.
Coach Galanis in his lecture talked about Pick-n-Roll offense. We began his lecture referring from the young ages and continued through the highest level. We analyzed the methods he has used in his teams
Vaggelis Alexandris didn't make it due to a personal problem.
The next monthly meeting will be held on Monday (11 of May) with coach Alexandris talking about team offense and his experiences from basketball.