03 & 04/07/15 - INTERNATIONAL CLINIC ATHENS 2015 BIOS

Giannis Sferopoulos
His coaching career began at 1986 at Apollon Kalamarias kai then at the men's team in B and C National Division (1994-1997). At 1997 he moved to PAOK, where he worked until 2005 as an assistant coach. In 2000-2001 season he took over as the interim head coach in the second half of the season. From 2001 until 2004 and in 2009-2010 he also was named member of the Greek National Team next to Giannis Ioannidis, Panagiotis Giannakis and Jonas Kazlauskas.From 2005 since 2008 he worked as an assistant coach in Olympiakos, working side by side with Panagiotis Giannakis and Pini Gershon. At 2008 he was named for the first tim head coach in the A1 League, when he took over Kolossos Rhodes, a team that we led to great success until 2011. The summer of 2011 he moved to Moscow where he teamed-up once again with Jonas Kazlauskas, reaching the Euroleague's final game. Next he coached Panionios for two season. Last November he was named head coach of Olympiakos leading the team the Final-Four and to the greek championship. He was won a Greek Cup (1999, PAOK), the 5th place in the Olympics (2004), the bronze medal in Eurobasket of 2009, a russian championship (2012) with CSKA, a greek championship with Olympiakos (2015) and he was participated twice in the Euroleague's final (2012 with CSKA and 2015 with Olympiakos). He has visited the basketball programs of many college teams in the States such as Syracuse and Hartwick, and many summer camps. He has also taken part in the Las Vegas Summer League as a member of the Cleveland Cavaliers coaching staff in 2006 and as a member of the Houston Rockets coaching staff in 2012.

Mike Longabardi
Mike Longabardi considered as a defencive guru and everybody in America recognizes his value. He is member of the Phoenix Suns coaching stuff since 2013 and he is defensive coordinator. Before he become a member of the Suns he had worked for 6 seasons as an assistant coach with the Boston Celtics, where he had great success next to Doc Rivers. He joined the staff prior to the start of the 2007-08 season.
Longabardi was previously with the Houston Rockets for four seasons as an assistant coach/video coordinator for two seasons, the video coordinator for a season and the assistant video coordinator for a year.
Before joining the Rockets, Longabardi spent seven years as an assistant coach for the men's basketball teams at Pfeiffer University, Adelphi University, Lafayette College, as well as Towson University. He was on the coaching staff that led the Lafayette Leopards to a Patriot League title and an NCAA Tournament berth. Longabardi also was a member of the coaching staff for the Celtics 2008 Championship team.
Longabardi graduated from Frostburg State University with a degree in health and physical education. He and his wife, Andreana, have two daughters, Olivia and Francesca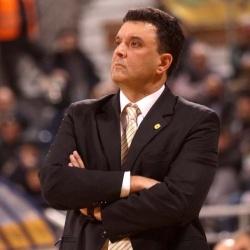 Vaggelis Aggelou
Vaggelis Aggelou has been involved in basketball for over 30 years, first as a professional player and then as a successful coach. He played for over 12 years professionally in Greece, wearing the jersey of many high profile teams (Olympiacos, Panionios, Iraklis, Apollon Patras). After retiring he returned to his home town Chalkida and in a few years he took his local club from the amateur divisions to the Greek A2. After that he worked in Aris and Maroussi as an assistant coach, where he had great success next to Panagiotis Giannakis. In 2005 he moved in Moscow where he worked side by side with Dusan Ivkovic tο Dynamo, winning the the Uleb Cup the first season and reaching the Euroleague's quarter-finals the next one.
His first head coaching job in A1 league was AEK in 2007 and after that he worked in Trikala. In 2010 his path crossed again the one of Dusan Ivkovic. They signed in Olympiakos and won one championship (2012), one cup (2011) and one Euroleague title (2012). In 2013 he was named head-coach of Aris in the middle of the season, leading the legendary team of Salonica to the 6th spot of the regural season. In the minddle of 2014 he moved to Turkey when he signed contract with Efes being the head coach. During the last season he was the immediate associate of Dusan Ivkovic in Efes Anadolu.

George Dikeoulakos
George Dikaioulakos made his first coaching steps in Serbia and when he returned to Greece in Faliro's youth teams. Then he worked in Akadimia Ilioupolis, Milonas, Daphne and Olympiakos winning the Greek Cup in 2002, as the assistant coach next to Leuteris Subotic. After that He worked in Panionios, Papagou and Penellinios, while in 2008 he took over Athinaikos women's team winning many titles in Greece, as well as the Eurocup in 2010. After that he began his international career in women's teams, working in Lotos Gnydia, winning the Polish Cup in 2011. He then moved in Fenerbahce celebrating the Turkish championship. In 2012 he signed with Targovice of Romania. In 2013 he worked in Orenburg in Russia, with which he reached the quarterfinals of Euroleague in 2014. Now he returned in Fenerbahce. Since 2006 he was worked as an assistant coach in the Greek Women's National Team. The team was 5th in the European Championship of 2009 in Latvia, while the same season worked again with Kostas Missas in the U-20 team in Rhodes, winning the Gold medal. From 2010 until 2011 he coached the Latvian National Team. Now he is the head coach of the Greek National Team.

Dr. George Vavetsis CPT, PES, CES
George holds doctoral (PhD) and postdoctoral(Post-Doc) degrees of study in the fields of Biochemistry of Exercise and Clinical Exercise Physiology at Medical School, Master's degree (MSc) at A.U.E.B Athens University of Economics and Business (Department of Statistics), a Postgraduate in Physical Education and Sports Science at the University of Athens and specialized in volleyball . He also holds a Postgraduate degree in Physiotherapy.
• Physical Training Specialist.
• Wide rehabilitation experience.
• Implemented and developed winning training programs for various athletes.
• Coached high level athletes in many different sports, that resulted in 25 state championship teams, including National Teams (Volleyball, Handball).
• Implemented and designed strength training courses.
Co-Owner and Head of Athletic Department at Biofit Athletic Center
Head of Exercise Testing Department at IASO General Hospital
Head of Exercise Testing Department and Strength & Conditioning Coach at Arsenal Soccer School
National Academy of Sports Medicine Official Educational Partner in Greece and Cyprus
National Association of Speed and Explosion Official Educational Partner in Europe
Strength and Conditioning Coach
• Support the physical and physiological development of athletes for elite sport performance.
• Bridge the gap between the theory of training and applied training.
• Help athletes to get faster, stronger, more flexible and keep going longer so they perform better and steer clear of injuries.
• Work alongside the main coach and help by designing a programme that will target the physical need as identified by the main coach and the strength and conditioning coach.
Strength & Conditioning Co-ordinator
• Organize and implement fitness plans for teams and athletes
• Develop and maintain computer base of training data.
• Maintain and supervise weight room and auxiliary areas.
• Instruct athletes on proper lifting techniques, speed development, plyometrics, nutrition, injury rehabilitation, and recovery methods.
• Test and evaluate athletes periodically.
• Prepare, market and present strength and conditioning clinics