An ideal start for "Athens 2008"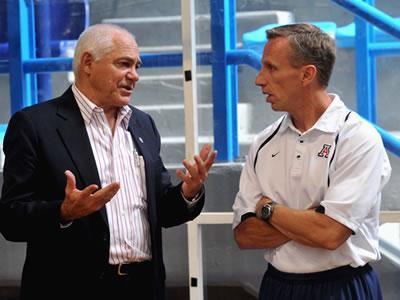 The dynamic presence of the Greek coaches that surpassed even the most optimistic predictions was the characteristic of the fist day of the International Clinic of the GBCA "Athens 2008". The beginning was considered very successful from every point of view and was accompanied by the greeting note of the President of FIBA, Bob Elphinston and the very interesting lecturers of Oktay Mahmuti, Mike Dunlap, Eric Musselman and Neven Spahia.

"Basketball is a great sport to coach. I was a coach for 25 years and I have a lot of good memories. I realized that a coach never stops learning. Besides he has a very important role, especially to this kind of sport. He has to be a teacher, a conditioning trainer, a doctor, a father and a mother if it's necessary. You are very lucky to have such clinics in Greece, a country that loves basketball as shown in OAKA" said among other thing the President of FIBA, Bob Elphinston.

It has to be noted that almost 500 people attended the gym of Kipseli, as the registrations are expected to continue over the next two days of the clinic.

In the stands there were spotted foreign coaches, such as Drouker and Edelstein, the assistant coach of the Greek National Team, Lefteris Kakiousis and the majority of the coaches that work in A1 League (Alexandris, Zouros, Skourtopoulos, Bartzokas, Aggelou, Kalafatakis, Markopoulos and many more).