The first round of registrations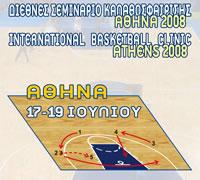 We remind that thw first round of registations for the International Clinic "Athens 2008" that organises the G.B.C.A. (17-19 July in idoor sports arena Panellinios B.C.), with lectures Spachia, Mahmuti, Musselman and Dunlap, will be completed on Thursday 10 of July. Up to Thursday (10/7) the cost of registration amounds to 80 € for the members of G.B.C.A., the Cypriote colleagues, the students of faculty of physical education and sports science in university of Athens speciality basketball, as well as for the students of Faculties of General secretariat of sports that function during the Clinic and to 160 € for non members and the foreign coaches..
After Thursday of 10 July the corresponding cost will amount in the 100 € and in the 200 € respectively.

We still inform that the first day of Clinic, at the break (lunch break), the G.B.C.A. will also grant dinner (buffet) for the participants , in the restaurant of Panellinios S.C.