Ph. Jackson: "It is a sacrifice to kill your ego"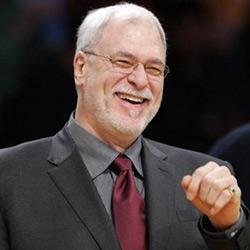 What can an experienced and successful coach as Phil Jackson ask for? The "Zen Master" was interviewed by the "Los Angeles Times" and analyzed the secrets than lead a team to the title. A team can win only if the players win themselves and put their egos under the team.
In the last game against the Wizards five Lakers had double-double and nine of the ten that played put their names on the scoreboard. "It is important to start from somewhere. It is hard to be on top, except you can be also a leader. It is important if your top players can lead, and sacrifice their egos for the team.

In our case Kobe is played injured and in many cases other players would sit out for two or three weeks. That is happening when a team has a cause, a mission. What Kobe is doing tells to other players that their obliged to do their job. It is a job that needs sacrifice.
Things are clear, and everybody knows what they have got to do. There is the starting point of a leader. Everybody has not only to be aware of his role, but to feel it and comprehend it.

The players have to make sacrifices all the team during a game. It is a big sacrifice to kill your "ego" for the "team" in one play".
Basketball Coach Ενότητες Άρθρων