A meeting with the General Secretary of Sports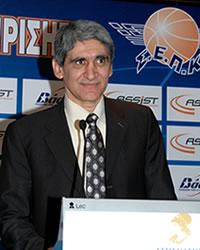 The President of the GBCA, Panagiotis Giannakis and the General Secretary Thodoros Bolatoglou, had a meeting on Monday morning with the General Secretary of Sports, Panos Bitsaxis.
They talked about the efforts of the Association, regarding the holding of International and Local Clinics, the grant of scholarships to the States, the publication of the "Basketball Coach" magazine and the constant improvement of the official site (www.sepk.gr).
Moreover the President and the General Secretary expressed the fair demands of the GBCA, starting with the creation of coaching schools. The Association insists on holding six coaching schools (A, B, C category) in Athens, Salonica and Crete. Also there is a request for holding for the first time a D' category coaching school for coaches that will work in the youth teams.
Lastly the GBCA expressed the need for expanding the value of the coaching id through every competition and asked for the observance of rules regarding the contracts of coaches.