Mazzon about the referees-coaches meeting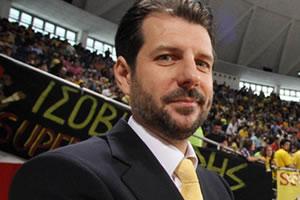 Andrea Mazzon traveled in Barcelona to attend the
meeting
of the referees and the coaches of the Euroleague, where the regulations and the calls were discussed. The Italian coach gave an interview referring this quite interesting meeting.
Coaches which were the subjects that were discussed?
"Mister Rigas was clear in his speech about the behavior of the players and the coaches. There are no changes. The regulations stayed the same. Like last year it is not allowed for anyone else to be standing in the bench and talk to the referees".
Which was the subject you talked more about?
"One of the subjects that were discussed in depth was the fouls. Some details about the calls were noted. We talked about the fouls on the players who don't have the ball in their hands and the ones on the fast break. It is important to clarify the criteria of the foul calls".
Was there something else that got everybody's attention in the meeting?
"We talked a lot about the pick-n-roll defense in the key. Many different things were said and many thoughts were herd".
Can you make a general comment about the meeting?
"We always follow the rules. We know exactly what to do and what to expect. We didn't have any problem until now. What is important is that everybody on his side knows how to behave on the court".
Basketball Coach Ενότητες Άρθρων