Obradovic the "coach of the year"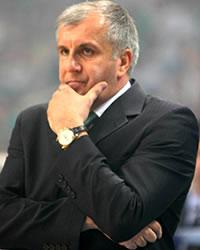 Zeljco Obradovic who celebrated the "Triple Crown" with Panathinaikos, was named "coach of the year", according to the League. Soulis Markopoulos, the last-years' winner, came in second place, as he had another tremendous season with Maroussi. Giannis Sfairopoulos of Kolossos was third in his first full year as a head coach.
"I am really glad for this honor and for the fact that the hard work of all the team's member is appreciated. Because as I am named "coach of the year", I think that all my associates are being awarded too" was his first worlds.
"If they chose me for the best coach, it means that the coaching staff is the best one. So I want to thank everyone that works with me and especially my players because they did a great job during the season" he added.
"The players did their best during a tough year with a lot of up-and-downs. In the end we achieved every goal and I am really proud for them. I want to say a big "thank you" to all the people that are working with me" he carried on.
As for the next season he said that "it will be a tough year. The past has shown that we have to be very careful after a successful season, if we want to maintain our position on the top. The basis is already there and one of the keys of the team is that we consider each other family" he concluded.
In general 50 members of the Press took part in the pole. All of them voted for "Zoc".
The votes in detail
Zeljco Obradovic (Panathinaikos) 142
Soulis Markopoulos (Maroussi) 109
Giannis Sfairopoulos (Kolossos) 33
Vaggelis Aggelou (Trikala) 9
Panagiotis Giannakis (Olympiakos) 8
Elias Zouros (Panellinios) 8
Kostas Pilafidis (Kavala) 4
Kostas Flevarakis (AEK) 3
Giorgos Kalafatakis (PAOK) 2
Andrea Mazzon (Aris) 1 
Basketball Coach Ενότητες Άρθρων