Itoudis analyzes Partizan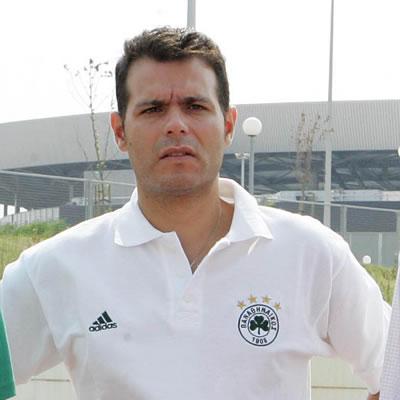 The assistant to Zeljmir Obradovic in Panathinaikos, Dimitris Itoudis, analyzed the next opponent of the Champions in the Top-16 of the Euroleague. The Greek coach referred to the strong points of Partizan, which is based the past years to a core of young players, showing a unique consistency in the Euroleague.
Dimitris Itoudis said:
"We have to do with a fighting team. They are hyped offensively and defensively. That can be proved by the stats and the way they hit the boards. They have 14 offensive rebounds per game. Every player is trying hard in this part, especially the front-line players like Vranes, Vesely, Velcjovic, Bitkovac. The same thing happens with the guards Tepic, Bozic and Milosevic.
Their game is based on the inside game. They try to play one-on-one with the centers and the guards. When we are talking about front-line players we are talking about Vranes and Lasme, who can also play together Lasme is a very important player for the team. He executes and he creates, because he is a tall, aggressive and very athletic player. And he is usually used at the "5" spot with Veljcovic on his side.
They play a lot with their front-line and try to put the ball inside with the guards. Like Vesely who plays as a forward. The last games he plays at the "3" spot and his height (he is 2.10) is very capable to post-up.
Tepic is the perimeter player who sets the tone. Rasic, the point-guard does the same. He usually starts with Tepic playing as "2". He runs the pick-n-roll and drives hard to the basket, while he can hit the outside shot. Tripkovic comes from the bench and is considered a threat from the perimeter. He shoots the ball with consistency. The others, depending on the stat sheet, don't shoot the ball well from the three point arc and that's why the team relies on the inside game.
In general they are a team which tries to control the tempo, go to 60-63 possessions in offense and that's why the use very often the zone defense. We are expecting them to play zone. Especially when Vranes is on the court they go to zone at a 90% rate.
Despite the changes in their roster they have kept the same mentality and they remain a fighting team, which plays hard on defense in a foul-limit zone. From our point of view we want to play with passion like the past few games. We want the fans to be on our side, because it is proven that they help us a lot".
Basketball Coach Ενότητες Άρθρων