Monthly meeting in Salonica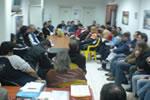 In the monthly meeting of the GBCA that was held on Monday the 22
nd
of June 2009 in the offices of the Association in Mikra, the lecturer was the member of the Administration Board, Konstantinos Kourkoubas.
The meeting began with coach Mouratidis informing the participants about the International Clinic that will take place on the 3rd, the 4th and the 5th of July in "Mantoulides".
After that coach Kourkoubas talked about managing the players, the associates and the Youth Teams. He noted the importance of communication between the coach and the players, the administration and the entire team, emphasizing on aspects of behavior and psychology.
The lecture then carried on with technical and financial subjects referring the Youth Teams.
Basketball Coach Ενότητες Άρθρων